On the bucket list of any sci-fi reader has to be Foundation, Isaac Asimov's nearly seventy-five year-old trilogy, considered a classic, yadda yadda. The technological predictions in a work of that vintage range from still conceivable, but not yet realized advances such as intergalactic travel and telepathy, to the mind-blowing convenience of a magical contraption of commerce that amounts to an airline ticket kiosk.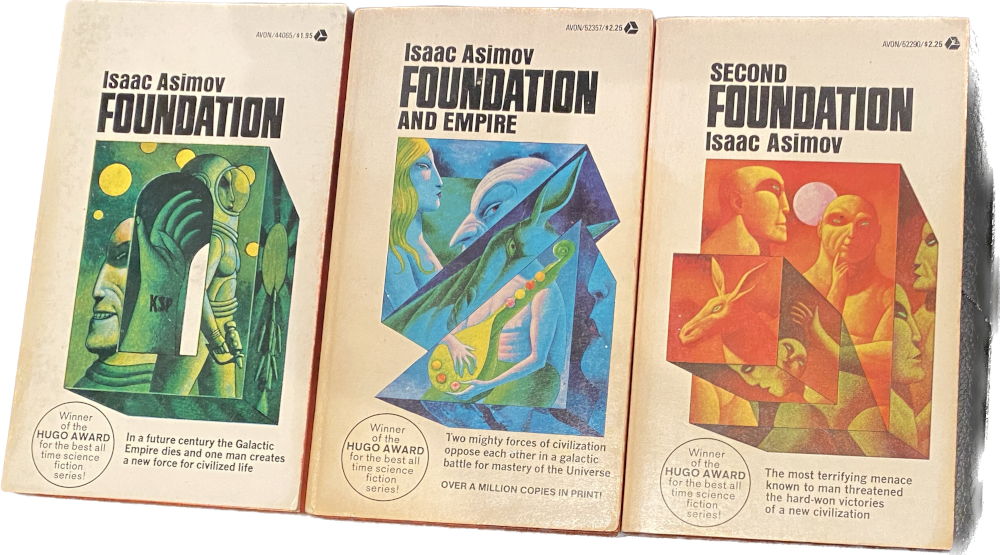 Still, the feat of imagination Asimov completes is impressive, especially in regard to great expanses of space and time. The political evolution he describes spans generations of power jockeying and intrigue. And yet, this swath of time may also be what hampers the experience for me, because few characters persist for long beyond their usefulness to Asimov in his games of galactic chess. None stick around long enough for me to develop an emotional connection to them as a reader.

So as novels, they don't succeed tremendously for me, but I am reminded that Foundation was not intended as a coherent novel from the first; it was a series of stories published between 1942 and 1950. In this way, Foundation is more like a Universe that Asimov wrote within over and over again, helping early on to establish the practice of world building that creators like Stan Lee, George Lucas and many others would take to new levels.

Above is a picture of my paperback copies. I fancy older printings of books in many cases, 1950s through 1980s is best. I rarely review books here, so it seems I mostly wanted to show you these.